BMW N57 N57S Intake Manifold Gasket Kit 11617807480
Product code: KL11617807480
Have a question?
You can get detailed information from our specialist:
Delivery
Self-pickup (8-B Preobrazhenskaya St.)

Free

Courier delivery in Kiev by taxi (Uklon)

from 50 UAH

within Ukraine (New mail)

from 40 UAH

all over the world (Ukrposhta)

from 330 UAH
Payment
Cash

Cash on delivery

Payment to Privatbank card

Payment to Monobank card

Payment on the site by Visa, Mastercard

PayPal
Description
Reviews
Warranty
Which cars are suitable for
Set of gaskets 11617807480 intake manifold BMW N57 N57S (6 pcs.)
Over time, not only large parts and assemblies wear out, but also the smallest details. Intake manifold gaskets are no exception to this rule. They ensure the tightness of the assembly between the manifold and the cylinder head. In this way, the correct operation of the entire system is achieved, due to which gases do not move into those mechanisms in which they should not be.
The gasket looks very small, but it plays an important role in the proper functioning of the entire car. Therefore, at the first sign of wear on the intake manifold gasket, experts recommend not to delay the replacement. And you can understand that such action is required by the following factors:

interruptions in the operation of the engine, and in particular at idle;

lowering the power of the machine;
whistling sounds are heard in the motor area;
oil leak.
On our website you can purchase a set of such spare parts for BMW N57 N57S (11617807480) at the most affordable price on the Ukrainian auto parts market. At the same time, we always have consistently high quality, because materials with excellent strength properties are used for production. You can order an exact copy of a standard part from us, and thereby significantly save.
Gaskets are compatible with collectors 11618511363 and 11617800088. Installed on:
3' E90 LCI (07/2007 — 12/2011)
3' E91 LCI (07/2007 — 05/2012)
3' E92 (03/2008 — 02/2010)
3' E92 LCI (07/2009 — 06/2013)
3' E93 (09/2008 — 02/2010)
3' E93 LCI (09/2009 — 09/2013)
5' F07 GT (09/2008 — 06/2012)
5' F10 (01/2009 — 08/2011)
5' F11 (01/2009 — 08/2011)
5' G30 (10/2016 — 12/2019)
5' G31 (11/2016 — 12/2019)
7' F01 (09/2007 — 06/2012)
7' F02 (09/2007 — 06/2012)
7' G11 (09/2015 — 02/2019)
7' G11 LCI (02/2018 — 12/2019)
7' G12 (10/2015 — 02/2019)
7' G12 LCI (01/2018 — 12/2019)
X5 E70 LCI (04/2009 — 06/2013)
X5 G05 (09/2017 — 12/2019)
X6 E71 (04/2009 — 06/2014)
X6 G06 (06/2018 — 12/2019)
X7 G07 (11/2017 — 12/2019)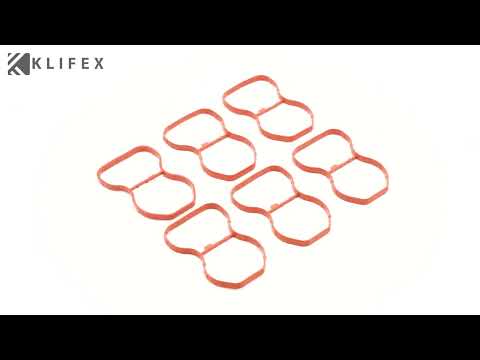 Характеристики
| | |
| --- | --- |
| Type | Прокладки впускного коллектора |
| Car brand | BMW |
| Producing country | Китай |
| Manufacturer | Klifex |
Can I exchange or return an item?
Yes, you can exchange or return an item within 14 days of purchase. This right is guaranteed to you by the Consumer Protection Act.
To use this feature, please make sure that:
the product was not in use and has no traces of use: scratches, chips, abrasions, etc.
the goods are fully completed and the integrity of the packaging is not violated
retained all labels and factory markings
Perfect summancy
They are made according to the example of original parts, which ensures their compatible with parts and assemblies of various modifications of cars.
Product sale
Own high-tech production allows us to guarantee high quality of all parts and offer them the most favorable prices.
Unparalleled Quality
High-quality materials and careful testing before shipping to the client eliminates possible defects and guarantees reliability.
Ready-to-use solutions
The kits include everything you need for a quality and efficient repair details and auto nodes. You don't have to waste time looking for the right details.
REVIEWS ABOUT THE PRODUCT:
BMW N57 N57S Intake Manifold Gasket Kit 11617807480
YOUR BENEFITS WHEN ORDERING OUR REPAIR KITS
Purchase of components identical to the original ones at a price several times cheaper original.

Professional advice from auto experts, assistance in the selection of parts and installation recommendations.

Receive your order in minimum time as we are ready to send parts to day of treatment.

Purchasing parts on favorable terms for you: how you pay and ship choose yourself.