Crankcase Ventilation Valve for BMW N46N, N46K, N46T 11127555212
Product code: KL11127555212
Have a question?
You can get detailed information from our specialist:
Delivery
Self-pickup (8-B Preobrazhenskaya St.)

Free

Courier delivery in Kiev by taxi (Uklon)

from 50 UAH

within Ukraine (New mail)

from 40 UAH

all over the world (Ukrposhta)

from 330 UAH
Payment
Cash

Cash on delivery

Payment to Privatbank card

Payment to Monobank card

Payment on the site by Visa, Mastercard

PayPal
Description
Reviews
Warranty
Which cars are suitable for
Crankcase gas ventilation membrane repair kit for BMW N46N, N46K, N46T engines. Valve cover numbers where the kit fits: 11128645888, 11127555212, 11127553171.
Used on BMW models:
1' E81 (09/2006 — 12/2011)

1' E87 LCI (09/2006 — 06/2011)

1' E88 (11/2006 — 10/2013)

1' E82 (06/2009 — 10/2013)

3' E90 (03/2007 — 08/2008)

3' E90 LCI (07/2007 — 12/2011)

3' E91 (02/2007 — 08/2008)

3' E91 LCI (03/2008 — 05/2012)

3' E92 (09/2006 — 02/2010)

3' E92 LCI (09/2009 — 06/2013)

3' E93 (09/2005 — 02/2010)

3' E93 LCI (09/2009 — 08/2013)

5' E60 LCI (04/2006 — 12/2009)

X1 E84 (09/2008 — 06/2015)

Z4 E85 (06/2004 — 08/2008)
Repair kit for BMW N46N
The engines of German cars have always been distinguished by power and reliability. But some models still have vulnerabilities. For example, the valve cover on the N46N has a rapidly wearing element.
The crankcase gas ventilation membrane may burst and crack during operation. The breakdown of this element is usually accompanied by a number of extraneous sounds when the engine is running. Whistling appears most often. This breakdown occurs when using valve covers such as 11127555212.
How to fix this problem?
The Bavarian automaker assumes that if the crankcase ventilation valve breaks, the owners will buy a new valve cover entirely (for example, 11128645888). Therefore, separate membranes for BMW N46 KVKG are not sold. Although such kits are very popular, because the engine of this type is installed on many models.
If the valve membrane is not replaced, fuel consumption will increase, engine elements will wear out faster due to contamination, as well as the operation of the electronic control unit will be disrupted, and the fuel card settings will be lost.
We produce repair kits for BMW N46, which help to quickly and easily fix such a breakdown. The kits include parts of our own production, completely identical in shape and composition to the spare parts of the German automaker.
The kit consists of the following elements:
valve cover;
membrane;
spring.
Any motorist can use the kit. To do this, the cap of the KVKG is removed on the valve cover under the number 11127553171, -7555212 or -8645888. Quite often, in case of breakdowns, it can collapse or not be removed normally, so we have provided a spare part. Then remove the remnants of the old membrane and the spring. Replace them with new elements.
After tightening the cap, start the engine. At the first start with a new membrane, the motor can work unstable, make strange noises and keep the revs unstable. This is normal, because the electronic control unit has already tuned in to the excess air in the engine during the period of use of the broken valve. Now, with the new membrane, it will rebuild the fuel cards to normal operation.
Let the engine work a little so that the ECU has time to update the data. After the second run, all failures should disappear. Your car will work like new!
Order repair kits right now to prevent engine wear.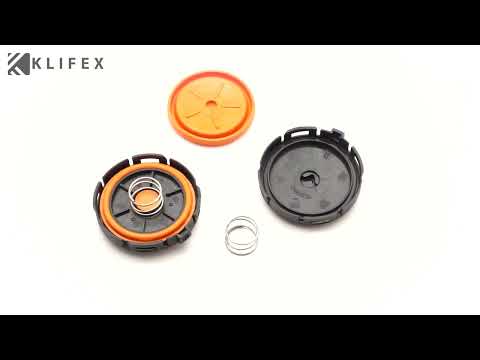 Характеристики
| | |
| --- | --- |
| Type | Мембраны КВКГ |
| Car brand | BMW |
| Producing country | Китай |
| Manufacturer | Klifex |
Can I exchange or return an item?
Yes, you can exchange or return an item within 14 days of purchase. This right is guaranteed to you by the Consumer Protection Act.
To use this feature, please make sure that:
the product was not in use and has no traces of use: scratches, chips, abrasions, etc.
the goods are fully completed and the integrity of the packaging is not violated
retained all labels and factory markings
Perfect summancy
They are made according to the example of original parts, which ensures their compatible with parts and assemblies of various modifications of cars.
Product sale
Own high-tech production allows us to guarantee high quality of all parts and offer them the most favorable prices.
Unparalleled Quality
High-quality materials and careful testing before shipping to the client eliminates possible defects and guarantees reliability.
Ready-to-use solutions
The kits include everything you need for a quality and efficient repair details and auto nodes. You don't have to waste time looking for the right details.
REVIEWS ABOUT THE PRODUCT:
Crankcase Ventilation Valve for BMW N46N, N46K, N46T 11127555212
YOUR BENEFITS WHEN ORDERING OUR REPAIR KITS
Purchase of components identical to the original ones at a price several times cheaper original.

Professional advice from auto experts, assistance in the selection of parts and installation recommendations.

Receive your order in minimum time as we are ready to send parts to day of treatment.

Purchasing parts on favorable terms for you: how you pay and ship choose yourself.